Event Details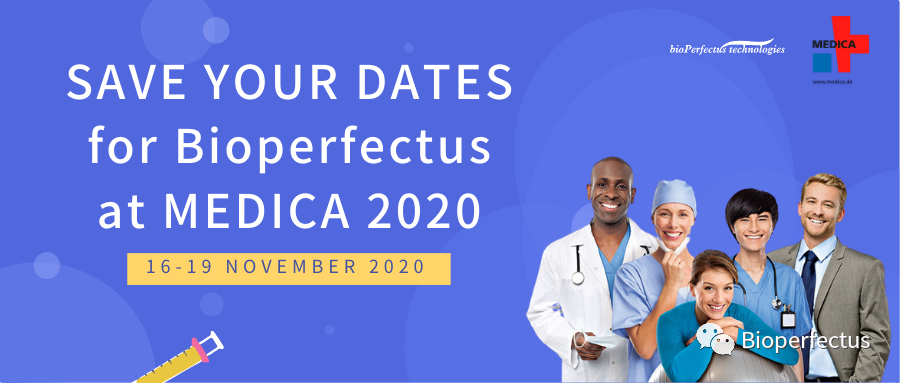 #MEDICA2020
MEDICA 2020, the world-leading information and communication platform for the medical technology industry, will take place entirely online from 16 to 19 November 2020.
#BIOPERFECTUS
BioPerfectus, a public listed company at Shanghai Stock Exchange (SSE:688399), is one of the leading molecular diagnostic solution providers in global in-vitro diagnostic market since 2010.
BioPerfectus, located in Taizhou; having talented professional R&D, marketing and service network through headquarter and branch offices in Shanghai, Beijing and Xi'an. Specialized in real time PCR kits, nucleic acid extractions, rapid tests, automation laboratory devices.
Missioned by social responsibility of humanity needs, we develop advance technologies to provide reliable, accurate and high-quality products and fast response to any infectious diseases globally.
BioPerfectus has manufacturing centers, certified by international known quality standards, covering over 30000 sqm and efficiently distributing products all around the world.
#DIGITAL BOOTH
The suspension of exhibitions and symposiums as well as protection measures due to the coronavirus present us new challenges each day. However, as information on our products and services shall not turn into a challenge for you, we would like to present our digital booth to you on MEDICA 2020 virtual exhibition. Sacn the QR code below, you will have the possibility to see what is new and you will find an overview of our product ranges.