Cases increasing in non-endemic countries
Monkeypox, a rare zoonotic infectious disease caused by the monkeypox virus, mainly spread in endemic countries in Africa. However, things seem to become different in recent days. After 20 days since the first case outside endemic countries was spotted in the UK on 2022 May 7, a cumulative total of 257 laboratory-confirmed cases and around 120 suspected cases in non-endemic countries from 23 WHO member states have been reported, according to the lasted update by WHO. Meanwhile, WHO also expects that there will be more cases identified as the surveillance expands in more and more regions.
The rising incidence of reported cases and outbreaks raises concerns about the future spread of the disease, especially when smallpox vaccination has ceased. Optimal supportive care is critical to improve the clinical course of monkeypox and avoid the most severe complications for persons affected.
Figure 1. Geographical distribution of confirmed and suspected cases of monkeypox in non-endemic countries between 13 to 26 May 2022, 5 PM CEST.
Credit: WHO
Community transmission merging in Europe
With the release of the latest gene sequencing reports from Italy, France, Spain, the Netherlands, Belgium, and other European countries, the analysis showed that the virus spread in these countries belongs to the mild West African clade. The relationship of the studied samples is exceptionally close, further indicating a possibility that large-scale community transmission of monkeypox has occurred in Europe.
On 27 May, in their report, the Italian research team stated that "Preliminary phylogenetic analysis was performed by Maximum likelihood using Iqtree software under a K3PU+F+I model selected by ModelFinder. The tree shows that the obtained genome belongs to the West African clade of MPXV and is most closely related to the recently uploaded genome from the outbreak in Portugal, providing further evidence of substantial community spread in Europe."
Animals contributing to the outbreak
Monkeypox virus is usually transmitted from one person to another through close contact with contaminated materials such as lesions, body fluids, respiratory droplets, and bedding.
Various animal species have been identified as susceptible to the monkeypox virus. Uncertainty remains on the monkeypox virus's natural history, and further studies are needed to identify the reservoir(s) and how virus circulation is maintained in nature. Eating inadequately cooked meat and other animal products of infected animals is a possible risk factor.
Appropriate laboratory testing is the key
On 23 May, WHO released guidance that serves to provide interim recommendations to laboratories and stakeholders involved in diagnosing monkeypox.
PCR alone can be used for laboratory confirmation of suspected cases. According to this guidance, the recommended specimen type for diagnostic confirmation is skin lesion material, including swabs of lesion exudate, roofs from more than one lesion, or lesion crusts.
Key points of the Interim Guidance of Laboratory testing for the monkeypox virus
Any individual that meets the suspected case definition for monkeypox should be offered to test.
Laboratory confirmation of specimens from a suspected case using nucleic acid amplification testing (NAAT), such as real-time or conventional polymerase chain reaction (PCR). NAAT can be generic to
orthopoxvirus
(OPXV) or specific to
monkeypox virus
(MPXV, preferable).
The recommended specimen type for diagnostic confirmation of monkeypox in suspected cases is skin lesion material, including swabs of lesion exudate, roofs from more than one lesion, or lesion crusts.
In addition to NAAT, sequencing is useful for determining virus clade and understanding epidemiology. Member States are encouraged to share MPXV genetic sequence data is available and publicly accessible databases.
All manipulations in laboratory settings of specimens originating from suspected, probable, or confirmed cases of monkeypox should be conducted according to a risk-based approach.
Member States are requested to immediately notify WHO under the International Health Regulations (IHR) 2005 of positive laboratory results, including a generic OPXV laboratory test that awaits confirmation.
WHO can assist the Member States to access testing through referral. Member States can contact the relevant WHO Regional Office if the need arises.
The goal of the global response to the multi-country outbreak of monkeypox is to stop the outbreak.
On 1 June, WHO held a Webinar in which the topic was to review Monkeypox epidemiology, discuss the current multi-country outbreak and diagnostics, and share critical recommendations from the WHO interim guidance.
The laboratory experts and officers from Nigeria, Germany, the United States, and WHO have shared their practice regarding the diagnosis of Monkeypox. All the mentioned methods and specimen types for Monkeypox confirmation on diagnosis were aligned with the WHO guidance – the PCR method and the skin lesion materials.
Dr Lorenzo Subissi (WHO HQ)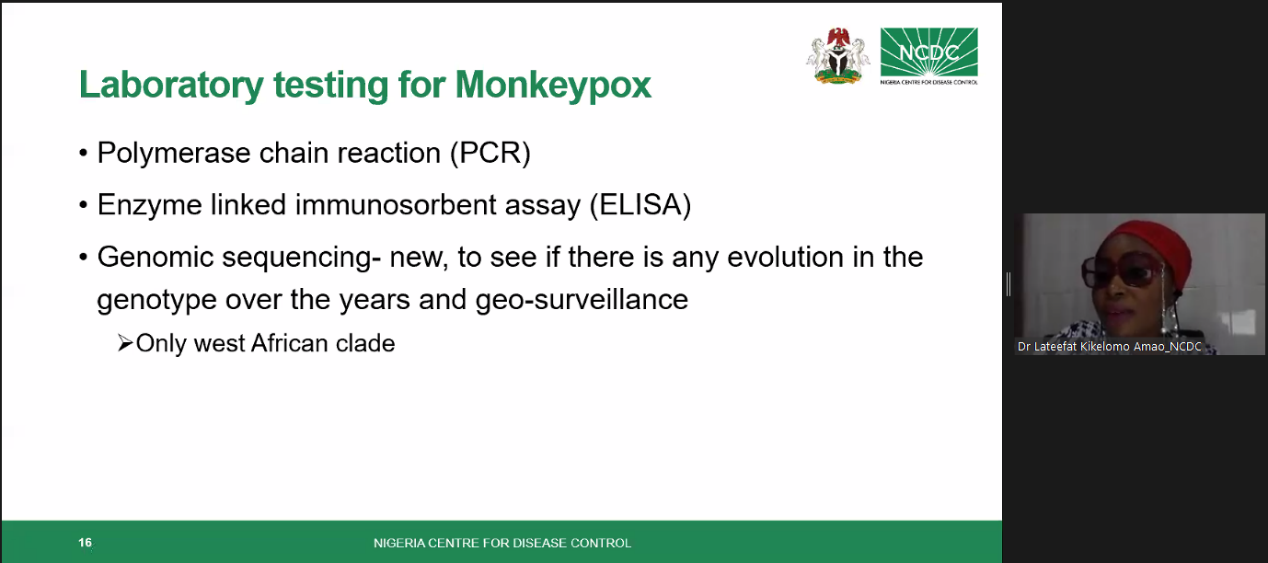 Dr. Lateefat Kikelomo Amao (Nigeria Centre for Disease Control)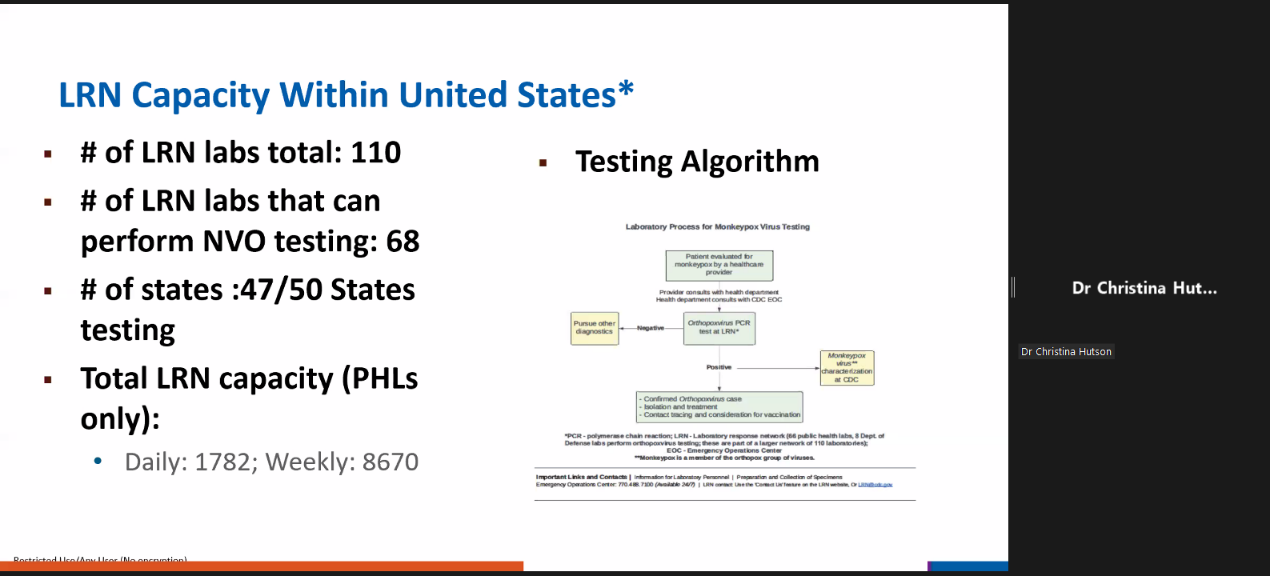 Dr. Christina Hutson (WHO Collaborating Centre for Smallpox and Other Poxvirus Infections)
For countries with regulatory standards that apply to clinical laboratory testing performed on human specimens, those standards should appropriately be followed. According to WHO, this document will expire unless revisions are made in one year (May 2023).
Bioperfectus Monkeypox Diagnostic Solution conforms to WHO guidance
The CE-approved Bioperfectus Monkeypox Virus Real Time PCR Kit uses the recommended method for Monkeypox confirmation, the real-time polymerase chain reaction (real-time PCR), and is compatible with the recommended specimen type for diagnosis, the skin lesion material.
Specimen type compatible with Bioperfectus MPXV Kit
Lesion exudate
Scab
Serum
Whole blood
Tonsillar swab
Nasopharyngeal swab
The kit can be applied on mainstream PCR systems such as ABI 7500, Roche LightCycler 480, BioRad CFX96, and many other systems utilizing FAM and VIC channels.
Veterinary version also in store
Since various animal species have been identified as susceptible to the monkeypox virus, it is also crucial to present animal detection of the Monkeypox virus, especially at customs and airports. Bioperfectus now provides not only the kit to detect specimens from human resources but also animals. Please get in touch with our sales rep via info@bioperfectus.com for more details.
CATALOG

PRODUCT

PACKAGE

VJC70115NW-25T

25T/Kit

VJC70115NW-50T

50T/Kit
As more cases are uncovered in a global monkeypox outbreak, Bioperfectus is pleased to provide our test kits to our health partners globally, further enhancing the testing capacity as an essential tool to identify the monkeypox virus.
For more information on Monkeypox Virus Real Time PCR Kit, please visit www.bioperfectus.com or email info@bioperfectus.com or marketing_global@bioperfectus.com.
Reference