SHANGHAI, CHINA, October 16, 2022—Jiangsu BioPerfectus Technologies Co., Ltd. (hereinafter referred to as "BioPerfectus") is pleased to launch 𝐀𝐥𝐥𝐟𝐚𝐬𝐭𝐫𝐚 𝐒𝐀𝐑𝐒-𝐂𝐨𝐕-𝟐/𝐅𝐥𝐮𝐀/𝐅𝐥𝐮𝐁/𝐑𝐒𝐕 𝐑𝐞𝐚𝐥 𝐓𝐢𝐦𝐞 𝐏𝐂𝐑 𝐊𝐢𝐭 which has been received the CE marked.
Coronavirus disease (COVID-19) is an infectious disease caused by the SARS-CoV-2 virus. The World Health Organization (WHO), on March 11, 2020, declared that COVID-19 could be characterized as a pandemic. Anyone can get sick with COVID-19 and become seriously ill or die at any age.
Influenza (Flu) is a contagious respiratory illness caused by influenza viruses that infect the nose, throat, and lungs. There are three types of influenza viruses: A, B, and C. FluA and FluB are the most common viruses that routinely spread in people (human influenza viruses) and are responsible for seasonal flu epidemics each year.
Respiratory syncytial virus (RSV) is a common respiratory virus that usually causes mild, cold-like symptoms. RSV is the most common cause of bronchiolitis (inflammation of the small airways in the lung) and pneumonia (infection of the lungs) in children younger than 1 year of age.
SARS-CoV-2, Influenza A, B, and RSV are all contagious viruses that cause respiratory illnesses. The four viruses are spread from person to person through droplets and present similar symptoms, including cough, fever, and congestion. RSV and the flu can be life-threatening in young children. Multiplex assay diagnosis to distinguish the virus are beneficial to minimizing the spread and making different approaches if treatment is needed.
The 𝐁𝐢𝐨𝐩𝐞𝐫𝐟𝐞𝐜𝐭𝐮𝐬 𝐀𝐥𝐥𝐟𝐚𝐬𝐭𝐫𝐚 𝐒𝐀𝐑𝐒-𝐂𝐨𝐕-𝟐/𝐅𝐥𝐮𝐀/𝐅𝐥𝐮𝐁/𝐑𝐒𝐕 𝐑𝐞𝐚𝐥 𝐓𝐢𝐦𝐞 𝐏𝐂𝐑 𝐊𝐢𝐭 is an in vitro diagnostic test, based on real-time PCR technology, for the detection and differentiation of RNA from the SARS-CoV-2, influenza A (FluA), influenza B (FluB) virus and respiratory syncytial virus (RSV). Specimens can be obtained from human nasopharyngeal (NP) swab, oropharyngeal (OP) swab and sputum.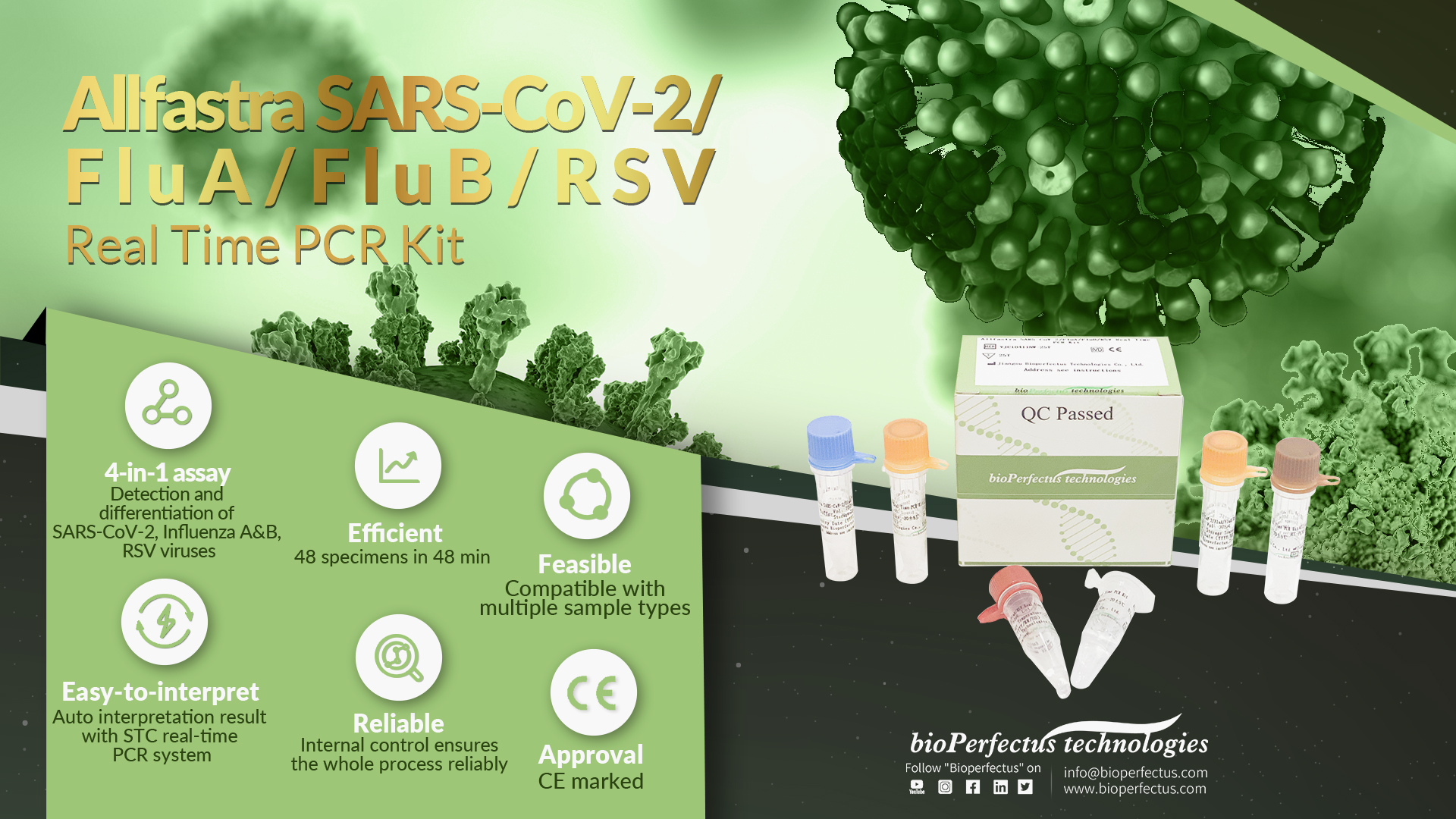 Bioperfuctus, a one-stop supplier specializing in molecular diagnostics, highly recommends the Total PCR Solution for Respiratory Viruses with higher throughput and higher efficiency.
Dedicated to providing laboratories with comprehensive tests of Respiratory Infectious disease viruses, Bioperfectus provides the 𝐓𝐨𝐭𝐚𝐥 𝐏𝐂𝐑 𝐒𝐨𝐥𝐮𝐭𝐢𝐨𝐧 with instruments and kits. Pioneering in molecular diagnostic, Bioperfectus are always devoted to pursuing high quality, keeps innovating, and strives to solve health problems faced by humankind for a healthier future.