The recent ongoing monkeypox virus cases outbreak in nonendemic countries caused a series of concerns in public health. As a molecular diagnostic supplier, we are launching Monekypox Virus Real Time PCR Kit as a detection tool to combat the potential spread among people.
What is the monkeypox virus?
Monkeypox is a rare disease caused by infection with the monkeypox virus.

Monkeypox is a viral zoonosis (a virus transmitted to humans from animals) with symptoms very similar to those seen in the past in smallpox patients, although it is clinically less severe.

Monkeypox virus belongs to the Orthopoxvirus genus in the family Poxviridae. The Orthopoxvirus genus also includes variola virus (which causes smallpox), vaccinia virus (used in the smallpox vaccine), and cowpox virus.
Monkeypox was first discovered in 1958 when two outbreaks of a pox-like disease occurred in colonies of monkeys kept for research, hence the name 'monkeypox.' The first human case of monkeypox was recorded in 1970 in the Democratic Republic of the Congo (DRC) during a period of intensified effort to eliminate smallpox. Since then, monkeypox has been reported in several other central and western African countries: Cameroon, Central African Republic, Cote d'Ivoire, the Democratic Republic of the Congo, Gabon, Liberia, Nigeria, Republic of the Congo, and Sierra Leone. The majority of infections are in the Democratic Republic of the Congo.
Monkeypox cases in people have occurred outside Africa linked to international travel or imported animals, including patients in the United States and Israel, Singapore, and the United Kingdom.
The natural reservoir of monkeypox remains unknown. However, African rodents and non-human primates (like monkeys) may harbor the virus and infect people.
How many countries have been infected?
According to WHO, "as of 21 May, 13:00, 92 laboratory-confirmed cases and 28 suspected monkeypox cases with ongoing investigations have been reported to WHO from 12 Member States that are not endemic monkeypox virus across three WHO regions (Table 1, Figure 1). No associated deaths have been reported to date."
Table 1. Cases of monkeypox in non-endemic countries were reported to WHO between 13 to 21 May 2022 as at 13:00
Figure 1. Geographical distribution of confirmed and suspected cases of monkeypox in non-endemic between 13 to 21 May 2022, as of 13:00.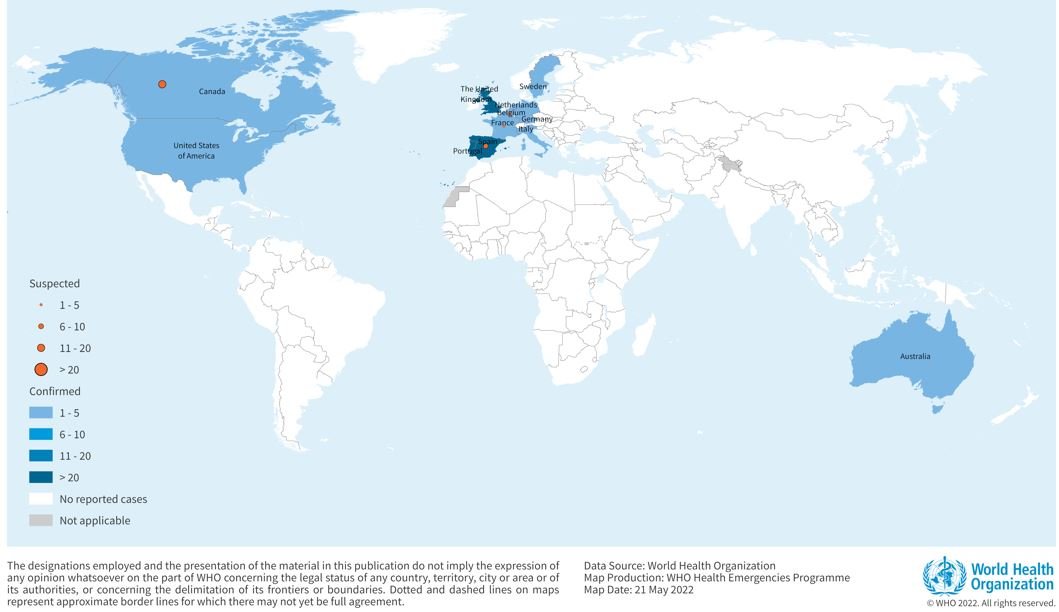 The unclear transmission in non-endemic countries among human
Reported cases thus far have no established travel links to an endemic area. Based on currently available information, cases have mainly but not exclusively been identified amongst men who have sex with men (MSM) seeking care in primary care and sexual health clinics.
To date, all cases whose samples were confirmed by PCR have been identified as being infected with the West African clade. Genome sequence from a swab sample from a confirmed case in Portugal indicated a close match of the monkeypox virus, causing the current outbreak to exported cases from Nigeria to the United Kingdom, Israel, and Singapore in 2018 and 2019.
The identification of confirmed and suspected cases of monkeypox with no direct travel links to an endemic area represents a highly unusual event. Surveillance in non-endemic regions has been limited but is now expanding. WHO expects that more cases in non-endemic areas will be reported. Available information suggests that human-to-human transmission occurs among people in close physical contact with symptomatic cases.
Bioperfectus response to the potential monkeypox virus
Transmission of monkeypox virus occurs when a person comes into contact with the virus from animals, humans, or materials contaminated with the virus. The virus enters the body through broken skin (even if not visible), respiratory tract, or mucous membranes (eyes, nose, or mouth). Laboratory tests that are used to diagnose monkeypox virus include detection of immunohistochemical testing, electron microscopy, real-time polymerase chain reaction (RT-PCR), and virus isolation.
As one of the leading in-vitro diagnostic suppliers, Bioperfectus is pleased to launch the Monkeypox Virus Real Time PCR Kit, which serves as a detection tool in the early confirmation stage of the monkeypox virus. Bioperfectus Monkeypox Virus Real Time PCR Kit is based on real-time PCR technology. Specific primers and probes are designed based on particular areas of the Monkeypox virus. In addition, the kit also contains a housekeeping gene (RNase P) as an internal control (IC) for specimen sampling and nucleic acid extraction. It will play an essential role in the subsequent investigation.
Bioperfectus will continue to update the diagnostic information on the monkeypox virus with further investigation. Based on the available period, the kit temporarily serves as an RUO (Research Use Only) product; we will update the information on registration progress in the coming days.
Click here to download Bioperfectus Monkeypox Real Time PCR Kit Leaflet. The veterinary Use version is also available now! For more information, please email info@bioperfectus.com.
Note: Monkeypox endemic countries are Benin, Cameroon, the Central African Republic, the Democratic Republic of the Congo, Gabon, Ghana (identified in animals only), Côte d'Ivoire, Liberia, Nigeria, the Republic of the Congo, and Sierra Leone. Benin and South Sudan have documented importations in the past. Countries currently reporting cases of the West African clade are Cameroon and Nigeria. With this case definition, all countries except these four should report new cases of monkeypox as part of the current multi-country outbreak.
Reference: