Shanghai, China--Today, we Bioperfectus are proud to launch two new products: Bacteria DNA Extraction Kit and Dengue Virus Real Time PCR Kit. They will join Bioperfectus Total PCR Solution, enrich our extraction sample types and provide more PCR choices for clinical laboratories.
Bacteria DNA Extraction Kit (Magnetic Bead Method)
Features
Suitable for gram-positive and gram-negative bacteria

Easy-to-use: prepacked design promotes the efficiency of the extraction process

High yield: 1~20 μg DNA obtained from 0.5 × 109-5.0 × 109 bacteria

Safe and harmless: without the use of toxic reagents, e.g., benzene, chloroform

Compatible with Bioperfectus SSNP, SMPE, SAW extractors
Dengue Virus Real Time PCR Kit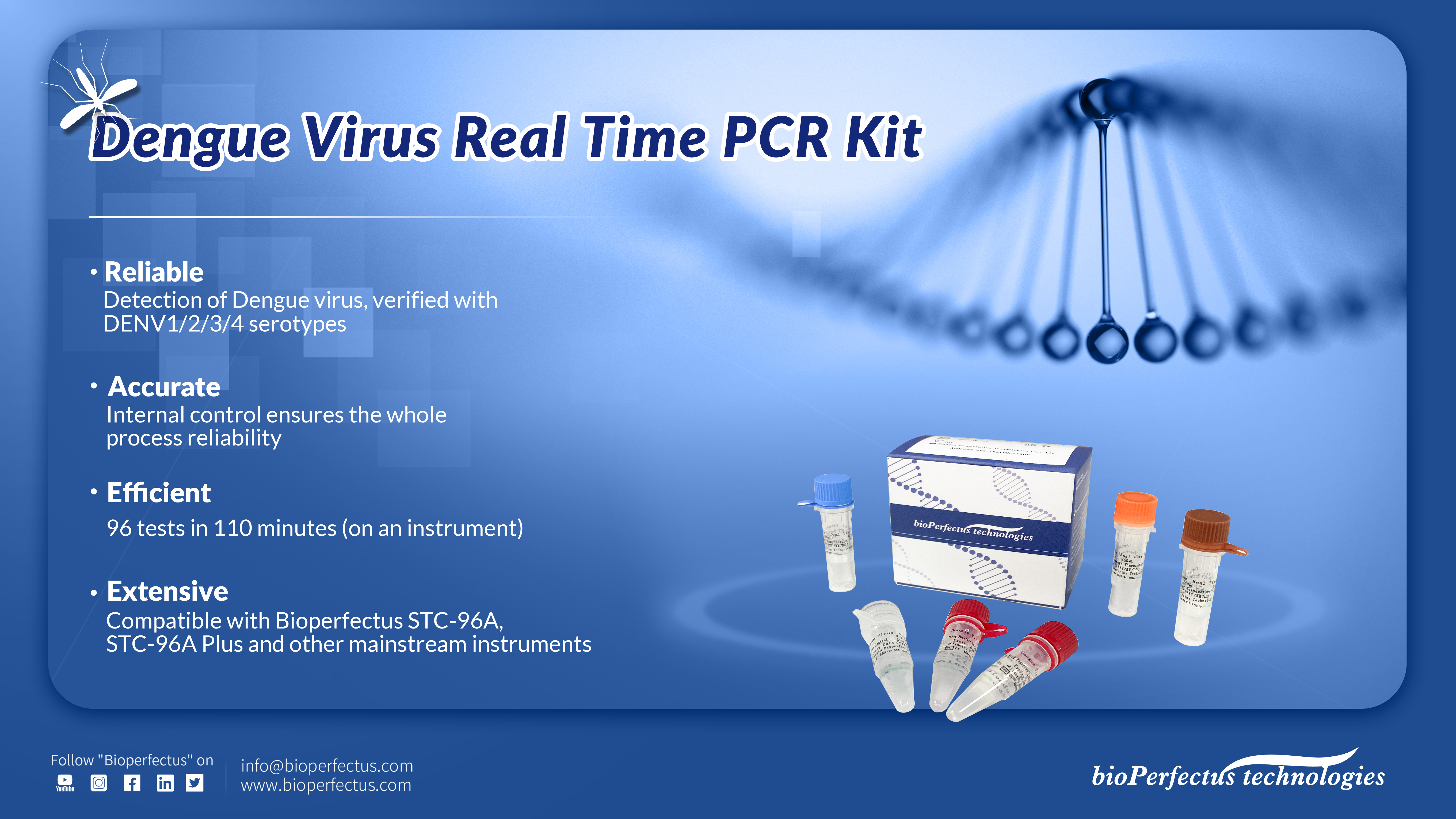 Features
Reliable: Detection of Dengue virus, verified with DENV1/2/3/4 serotypes

Accurate: Internal control ensures the whole process's reliability

Efficient: 96 tests in 110 minutes (on an instrument)

Extensive: Compatible with Bioperfectus STC-96A, STC-96A Plus, and other mainstream instruments
Bioperfectus Total PCR solution will provide products, including reagents and instruments.
With the new member of the Bacteria DNA Extraction Kit, the extraction procedure for samples containing all kinds of gram-positive/negative bacteria is available in our extractors. With different throughputs of extractors, solutions will cover the clinical demands from small to ultra-high sample sizes.
Dengue Virus Real Time PCR Kit will enrich the vector-borne PCR solution and provide flexible PCR products for clinical decisions. It will detect Dengue Virus no matter which DENV serotypes and could be a cost-effective screen tool for Dengue fever.
Welcome to contact us at info@bioperfectus.com for more information about the kits, instruments, and how to use them.