Human papillomavirus (HPV) is the primary cause of cervical cancer, which is preventable through screening and early treatment. The elimination of cervical cancer has been defined by the WHO as achieving an incidence rate below 4 cases per 100,000 women per year since 2020.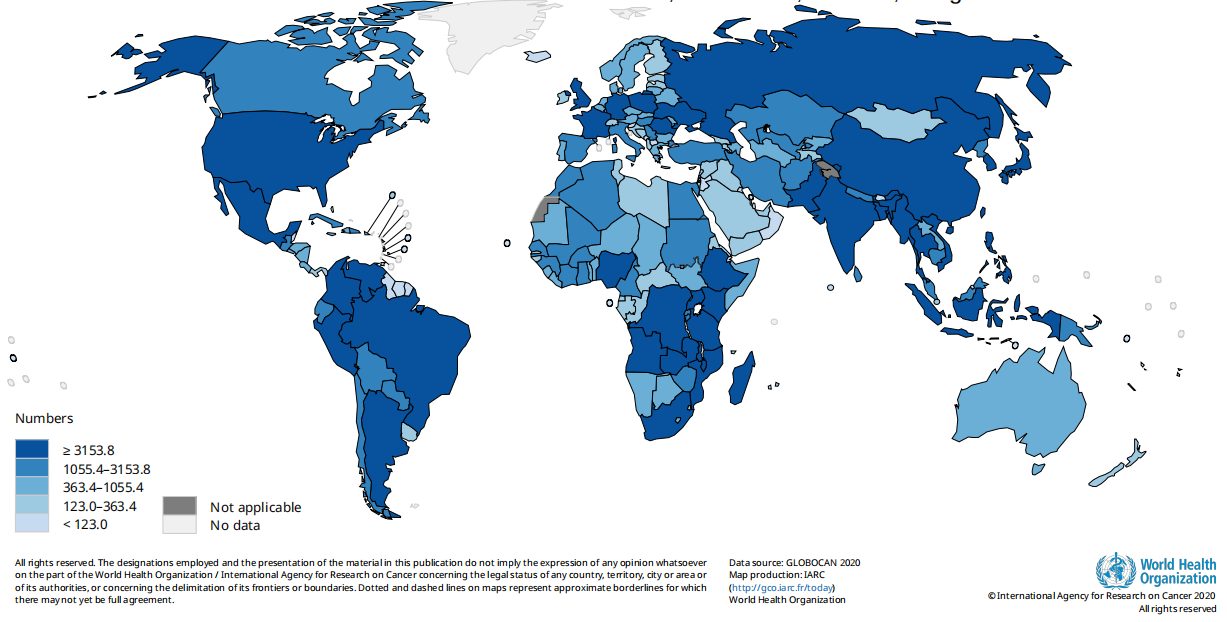 Fig. Estimated number of new cases in 2020, cervix uteri, females, all ages
However, the COVID-19 pandemic has substantially reduced preventive healthcare services, including HPV vaccinations and cervical cancer screenings. Besides, the demand for COVID-19 testing is competing with HPV testing, compounded by a shortage of resources.
What's worse, disruptions of healthcare services related to cervical screening, management of abnormal screening test results, and treatment of pre-cancers may lead to increases in cervical cancer incidence and a delay in the initiative to eliminate cervical cancer.
According to a review and synthetic analysis for 202 countries and territories from Nov 27th, 2020, to Feb 12th, 2021 worldwide, about 1.6 billion (67%) of 2.3 billion women aged 20–70, including 662 million (64%) of 1.0 billion women aged 30–49, had never been screened for cervical cancer. In a simple world, almost two in three women aged 30-49 have never been screened for cervical cancer.
Fig. Official recommended tests for primary cervical cancer screening
The solid pattern indicates the recommendation of one of the tests (either cytology, HPV, or VIA). The striped pattern indicates the coexistence of more than one test, which can have the same indication or be used for different indications (e.g., different tests are indicated at different ages or in different settings or outreach).
HPV=human papillomaviruses. VIA=visual inspection with acetic acid.
Fig. Female population pyramid by cervical cancer screening status and income level in 2019
A number of women, are from the 2019 UN population estimates. Countries are grouped according to the 2019 World Bank classification.
As the WHO news suggested, cervical cancer has attracted great attention from the public worldwide again. The Papanicolaou (Pap) test and visual inspection with acetic acid (VIA) are traditionally performed in clinical settings. With its updated guidelines, the WHO encourages countries and regions to use HPV-DNA tests for cervical screening.
Reviewed and evaluated by the IARC Working Group, HPV-DNA testing shows more superficial, more objective, and cost-effective, preventing more pre-cancers and cancer and saving more lives.
BioPerfectus, a one-stop solution provider, conducts the Cervical Cancer Screening Total PCR Solution, fulfilling different requirements from general screening and screening for high-risk people, providing partners and customers with solid results worldwide with a simplified and trustworthy HPV-DNA workflow for cervical cancer screening.
Reference:
-Laia Bruni et al. Cervical cancer screening programmes and age-specific coverage estimates for 202 countries and territories worldwide: a review and synthetic analysis, The Lancet Global Health, Volume 10, Issue 8, 2022, Pages e1115-e1127.
-Wentzensen N, Clarke MA, Perkins RB. Impact of COVID-19 on cervical cancer screening: Challenges and opportunities to improving resilience and reduce disparities. Prev Med. 2021;151:106596. doi:10.1016/j.ypmed.2021.106596
-Ginsburg O, Basu P, Kapambwe S, Canfell K. Eliminating cervical cancer in the COVID-19 era. Nat Cancer. 2021;2(2):133-134. doi:10.1038/s43018-021-00178-9
-WHO guideline for screening and treatment of cervical pre-cancer lesions for cervical cancer prevention 2nd edition, 2021
IARC Handbooks of Cancer Prevention Volume 18: Evaluation of cervical cancer screening methods
-https://www.who.int/news-room/fact-sheets/detail/cervical-cancer