From the isolation of specific genes to the sequencing of entire genomes, the polymerase chain reaction (PCR) has become one of the most widely used technologies for conducting biological research. Since the applications of PCR has been widely increased due to COVID-19 pandemic.Clinical Gene Amplification Testing Laboratory, also known asMolecular Laboratory or PCR Laboratory, has gradually become an indispensable part of the inspection field. Plenty of diagnostic demands are expected to develop based on PCR platform in the future.
In principle, a clinical PCR laboratory should consist of three areas(PCR amplification & analysis can be integrated normally in Real-time PCR instrument). Each work area must strictly follow a single direction to avoid cross-contamination. When a PCR procedure starts, the direction will be:Reagent Preparing Area → Sample Preparing Area → PCR Amplification Area.The transfer of reagents and samples between the experimental areas should be carried out through the transfer window. It is advisable to establish separate sections for genetic, malignant and infectious disorders.
Regardless of the PCR lab scale, the basic format remains the same no matter it is aimed to cater for genetic, malignant, or infectious disorders. The size of the lab depends on the range of applications and the quantum of workload.
A sketch depicting the model layout for a PCR laboratory recommended by WHO
Essential equipment in three main areas of PCR Lab
Function: preparation of reagents and amplification reaction mixture
- Equipments
Nucleic acid extraction kit and PCR kit
UV lamp
Refrigerator (2-8 ℃ & below -20 ℃)
Vortex Oscillator
Micropipette
Consumables (Pipette tip, PCR reaction tube, gloves)
Function: nucleic acid (RNA, DNA) extraction, storage and addition to the amplification reaction tube.
The operations involving clinical samples should comply with the requirements ofBSL-2 protective equipment, personal protection and operating specifications.
- Equipments
Nucleic acid extraction instrument
UV lamp
Refrigerator (2-8 ℃ & below -20 ℃)
Vortex Oscillator
Micropipette
Consumables (Pipette tip, PCR reaction tube, gloves)
Function: DNA/RNA amplification and detection, analysis and determination of amplified fragments.
- Equipments
PCR instrument
UV lamp
Refrigerator (2-8 ℃ & below -20 ℃)
Vortex Oscillator
Micropipette
Consumables (Pipette tip, PCR reaction tube, gloves)
Qualified instrument, kit and operator
Certificates approvement, such as CE, FDA-listed, FDA-EUA, WHO-EUL, ANVISA, RNZ, TGA, SAHPRA and so on, depend on the market access requirement
Skillful instrument operator to use nucleic acid extraction instrument and PCR instrument
In order to get an accurate PCR result, we need to make each step under control.
We Bioperfectus, as a total PCR solution provider, can offer convenience for PCR diagnosis with following products ranging from verified nucleic acid extraction solution, PCR kits to Real-Time PCR system.
-Nucleic acid extraction kit
CE approved and FDA-listed
Manual and magnetic method, extract nucleic acid with high purity and efficiency
Pre-packed reagent, don't need extra operation inReagent Preparing Area
-PCR kit
All CE approved, other authorization can be found on website
Focus on COVID-19, HPV, respiratory diseases, vector-borne diseases, Zoonotic diseases
-Nucleic acid extraction instruments
CE approved and FDA-listed
Provide 32,64,96 throughput for different labs
An innovative design instrument, satisfy personalized application with 3independent operating modules
UV lamp, HEPA filter, High Efficiency & High Voltage Electrostatic Sorption Particulate AIR Filter, it can avoid aerosol and sample contamination
-PCR instruments
CE approved
48+48/96 throughput real-time PCR, meet different labs' demand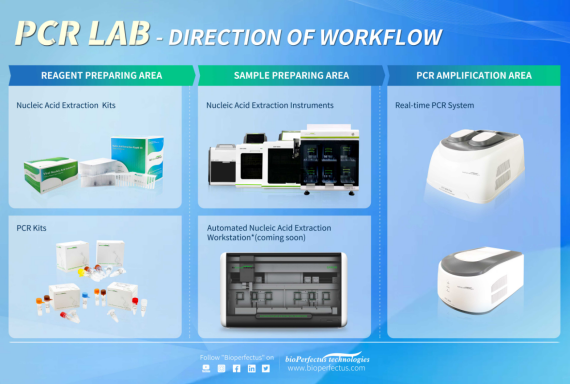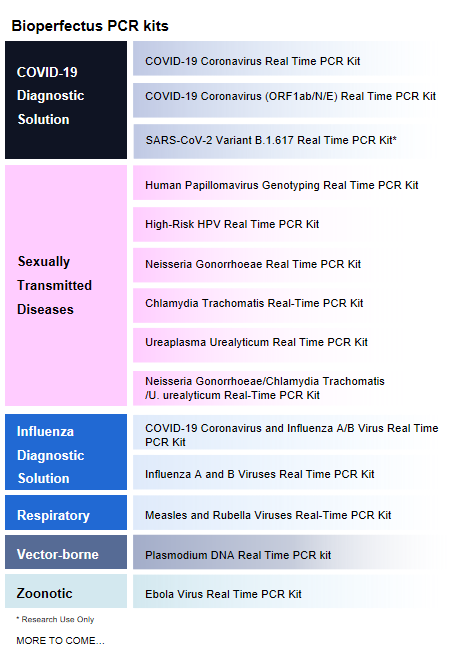 Soon, we will launch a new series of PCR lab solution product, "Automated Nucleic Acid Extraction Workstation", this product will realize fully-automatic sampling and nucleic acid extraction function in a closed system and get ready for the following PCR procedure. Our workstation will enable operators to process samples with guaranteed integrity and release human labors.
Efficiency of workload in PCR laboratory also requires a good after-sales service. Bioperfectus offers service solutions within 24 hours by our authorized distributors and global service center. With experienced service engineers, full service-parts inventory and fast global transportation network, Bioperfectus aims to provide the best solution to our end-users. We offer 24/7 after-sales service, prompt response and periodically training programs.
In the fight against COVID-19 pandemic, Bioperfectus contributes to early identifying the confirmed and suspicious patients and establishing a friendly and safe environment to protect medical staffs.