Gastrointestinal infections are among the most common infectious diseases worldwide, being exceeded only by respiratory tract infections.
Although often considered a benign disease, acute gastroenteritis remains a major cause of morbidity and mortality in children around the world. According to the World Health Organization (WHO) report, there are over 1.7 billion cases of diarrheal disease worldwide every year. Furthermore, diarrheal diseases are the second leading cause of death in children under the age of five years.
SHANGHAI, CHINA, March 16, 2023—Jiangsu Bioperfectus Technologies Co., Ltd. (hereinafter referred to as "BioPerfectus") is proud to launch following 10 new Real Time PCR Kits independently developed by BioPerfectus. When combined with our extraction solution and PCR system, we could provide a Total PCR Solution for the detection of gastrointestinal (GI) pathogens.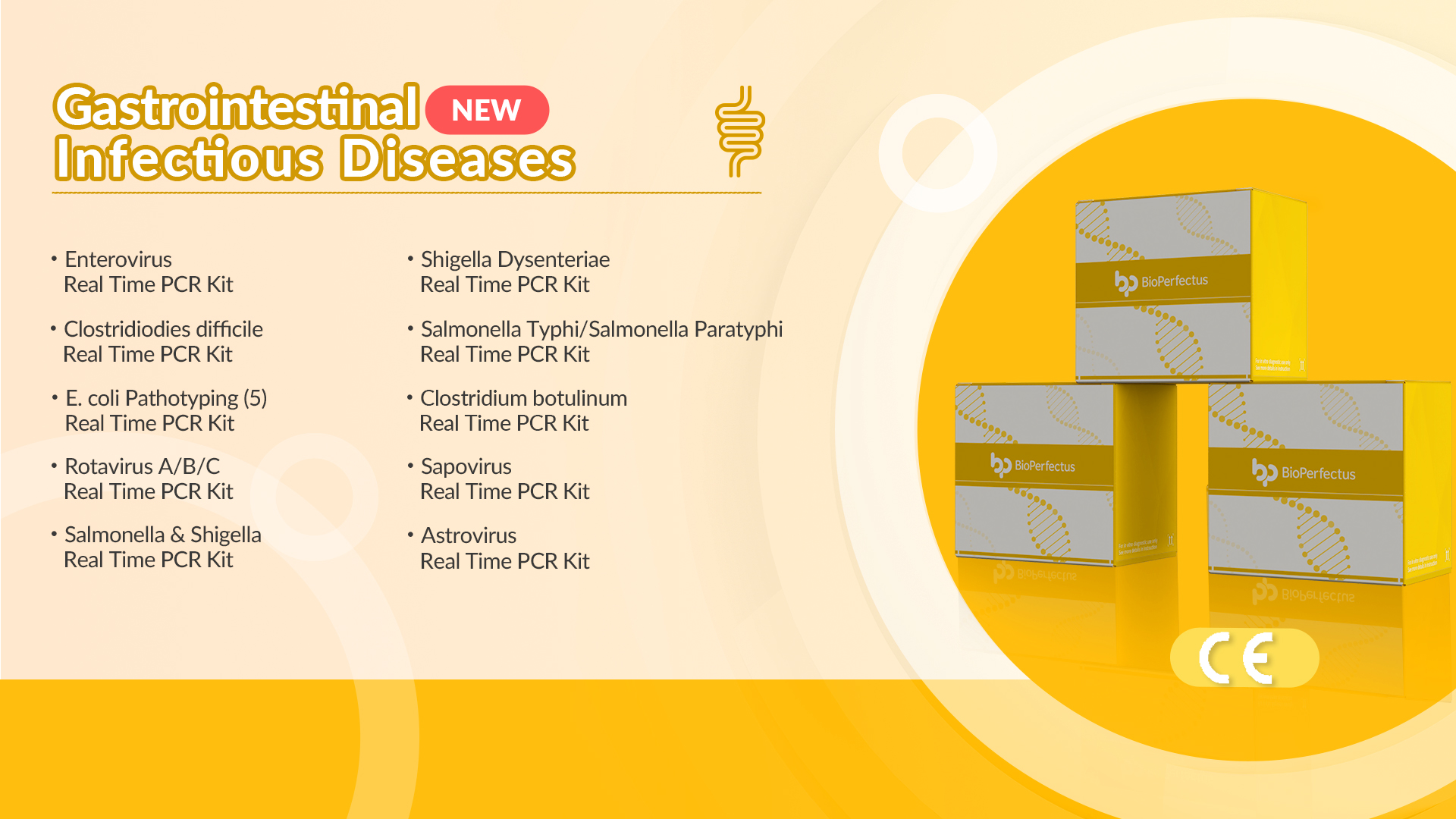 Gastrointestinal infections are caused by a variety of bacterial, viral, and parasitic pathogens. These infections are mostly transmitted in poor hygienic conditions and by consuming contaminated food or water. Infections can also be transmitted from person to person by direct contact or through fomites. The most common symptom is diarrhea, which is usually a self-limiting disease, and most healthy individuals recover within a few days.
The important causative agents of bacterial gastroenteritis and diarrhea are Campylobacter, Salmonella, Shigella, Plesiomonas, Vibrio, Yersinia enterocolitica, Clostridioides difficile (formerly Clostridium difficile), and pathogenic strains of Escherichia coli. Important causative agents of viral gastroenteritis are Adenovirus, Rotavirus, Astrovirus, and Norovirus.
Dedicated to providing laboratories with comprehensive tests of GI Infections, BioPerfectus provides Gastrointestinal Infectious Diseases Diagnostic Solution from sample pre-processing to PCR amplification analysis. Pioneering in molecular diagnostics, BioPerfectus is always devoted to pursuing high quality, keeps innovating, and committing to solving health problems faced by humankind for a healthier future.
Reference:
[1] Y. Zboromyrska and J. Vila, "Advanced PCR-based molecular diagnosis of gastrointestinal infections: challenges and opportunities," Expert Review of Molecular Diagnostics, vol. 16, no. 6, pp. 631–640, 2016
[2] Global, regional, and national causes of child mortality in 2008: a systematic analysis https://read.qxmd.com/read/20466419/global-regional-and-national-causes-of-child-mortality-in-2008-a-systematic-analysis
[3] Diarrhoeal Disease, Key Facts, World Health Orgaization Website, Geneva, Switzerland, 2017.
[4] N. M. Thielman and R. L. Guerrant, "Acute infectious diarrhea," New England Journal of Medicine, vol. 350, no. 1, pp. 38–47, 2004.
[5] C. Stockmann, A. T. Pavia, B. Graham et al., "Detection of 23 gastrointestinal pathogens among children who present with diarrhea," Journal of the Pediatric Infectious Diseases Society, vol. 6, no. 3, pp. 231–238, 2017.