SHANGHAI, CHINA, April 6, 2023—Jiangsu Bioperfectus Technologies Co., Ltd. (hereinafter referred to as "BioPerfectus") announces the CE marking of 4 new Real-Time PCR tests: CoxA16/EV71/EV-U Real Time PCR Kit, CoxA16 & EV71 Real Time PCR Kit, Norovirus Real Time PCR Kit and Norovirus GI and GII Real Time PCR Kit. These 4 new products would be added to our Gastrointestinal infectious disease product line. Combined with our Automated Nucleic Acid Extraction Workstation and Real Time PCR system, we can provide a Gastrointestinal infectious diseases total PCR solution for the early detection of gastrointestinal pathogens.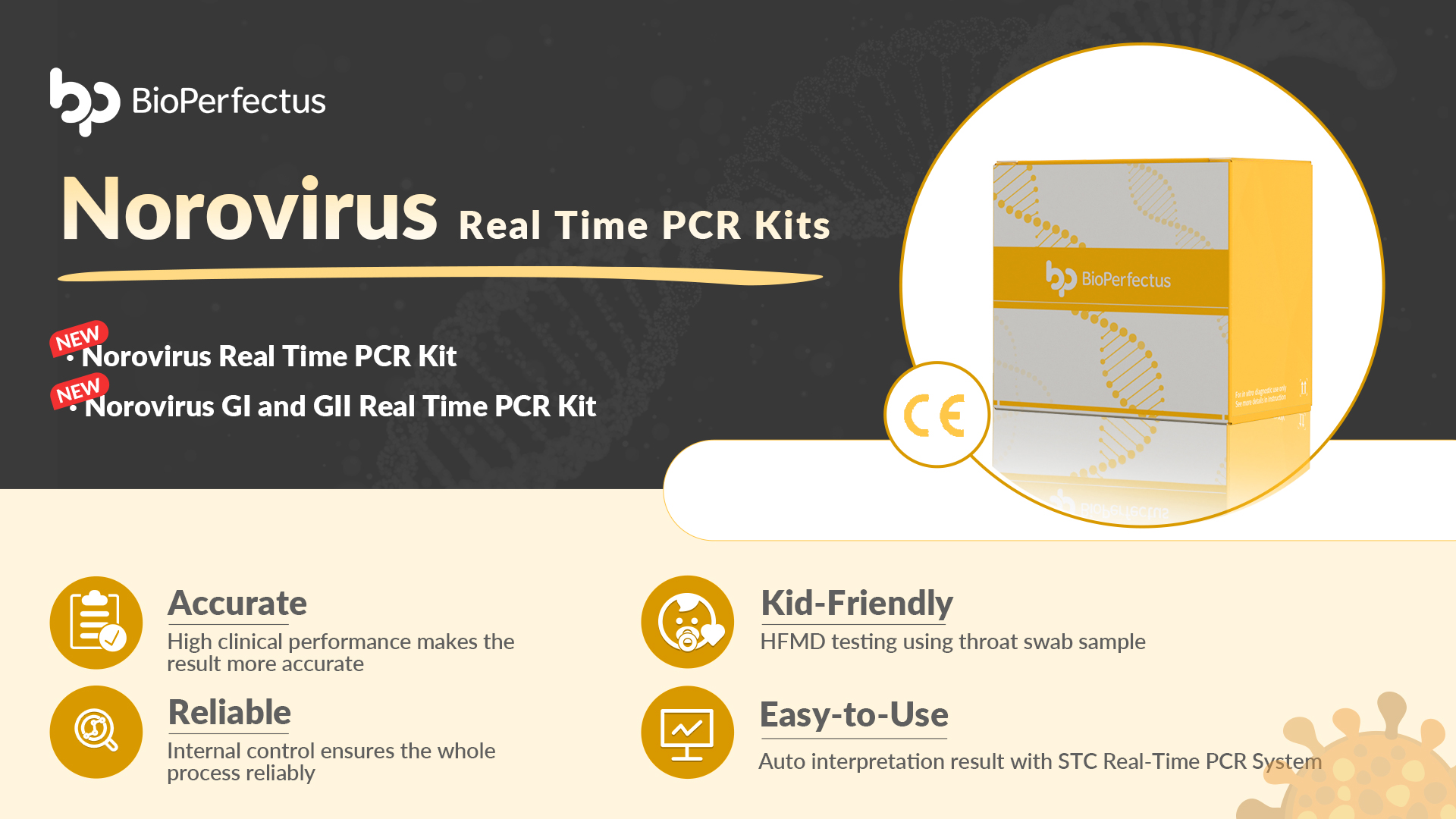 Hand, foot, and mouth disease (HFMD) is a common viral illness usually affecting infants and children younger than 5 years old, but anyone can get it. It is most commonly caused by the coxsackievirus of the Enterovirus family. Coxsackievirus A16 and enterovirus A71 are the serotypes most commonly implicated as causative agents. Coxsackievirus A6 has recently emerged as another cause of HFMD in the USA and worldwide. Coxsackievirus A10 has been implicated in severe disease. Coxsackievirus A4 to A7, A9, B1 to B3, and B5 have also been less commonly associated with HFMD. In most cases, the disease is mild and self-limiting, with common symptoms including fever, painful sores in the mouth, and a rash with blisters on hands, feet and buttocks. However, more severe symptoms such as meningitis, encephalitis and polio-like paralysis may occur.
The BioPerfectus HFMD Total PCR Solution can highly improve efficiency from prevention to early detection, enabling rapid public health response to limit spread. The CoxA16/EV71/EV-U Real Time PCR Kit and CoxA16 & EV71 Real Time PCR Kit provide reliable results with better clinical performance and allow the differentiation of major HFMD viruses in a single reaction. Relying on BioPerfectus's expertise in infectious diseases, these RT-PCR assays enable clear-cut results with no equivocal zone and an objective interpretation.
Norovirus is one of the leading causes of acute gastroenteritis (AGE) outbreaks and a main cause of childhood-endemic AGE worldwide. The majority of Norovirus infections are caused by genotype I & genotype II (GI & GII) — both of which must be tested to ensure proper outbreak prevention and management.
An estimated 685 million cases of norovirus are seen annually, including 200 million cases amongst children under 5. The burden of norovirus is significant, norovirus causes an estimated 200,000 deaths per year, including 50,000 child deaths, primarily impacting low-income countries.
The BioPerfectus Norovirus Real Time PCR Kit is an in vitro diagnostic test, based on real-time PCR technology, for the qualitative simultaneous detection of norovirus nucleic acid in human stool samples. With a perfect clinical performance of 100% sensitivity and 100% specificity, it may be of great help to guide the further diagnosis and treatment decision-making for clinicians. The Norovirus GI and GII Real Time PCR Kit is supported to further differentiate the Norovirus GI and Norovirus GII for routine surveillance.
Dedicated to providing laboratories with comprehensive gastrointestinal infectious disease tests, BioPerfectus provides Gastrointestinal Infectious Diseases Total PCR Solution from sample pre-processing to PCR amplification analysis. Pioneering the field of molecular diagnostics, BioPerfectus consistently pursues excellence, embraces innovation, and remains dedicated to addressing health challenges faced by humanity in pursuit of a healthier future.
References:
[1] Muzumdar S, Rothe MJ, Grant-Kels JM. The rash with maculopapules and fever in children. Clin Dermatol. 2019 Mar-Apr;37(2):119-128.
[2] Nelson BR, Edinur HA, Abdullah MT. Compendium of hand, foot and mouth disease data in Malaysia from 2010-2017. Data Brief. 2019 Jun;24:103868.
[3] Kimmis BD, Downing C, Tyring S. Hand-foot-and-mouth disease caused by coxsackievirus A6 on the rise. Cutis. 2018 Nov;102(5):353-356.
[4] https://www.cdc.gov/hand-foot-mouth/index.html