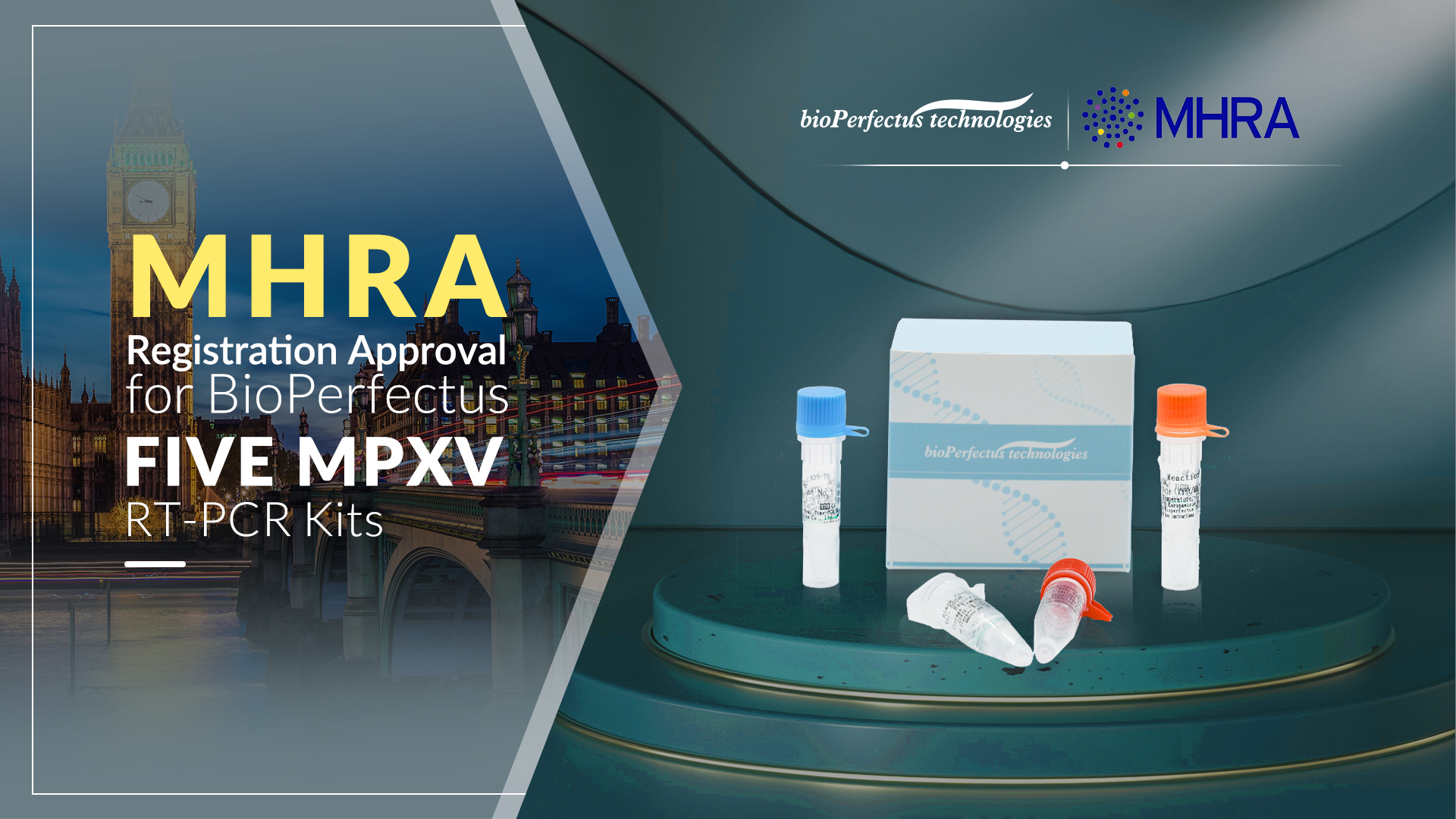 SHANGHAI, CHINA, September 30, 2022—Jiangsu BioPerfectus Technologies Co., Ltd. (hereinafter referred to as "BioPerfectus") is pleased to announce that Monkeypox Virus (MPXV) Fast Real Time PCR Kit, Monkeypox Virus Genotyping Real Time PCR Kit, Monkeypox Virus/Varicella-zoster Virus/Variola Virus Real Time PCR Kit, Monkeypox Virus and Orthopoxvirus Real Time PCR Kit have been approved by the UK Medicines and Healthcare products Regulatory Agency (MHRA) and are now officially available for Great Britain and Northern Ireland market.
There were 3,635 confirmed cases and highly probable cases of monkeypox as of September 28th in the UK.
Based on real-time PCR technology, BioPerfectus Monkeypox Virus Diagnostic Solution is specifically designed for different clinical scenarios with validated performance. So far, over 200,000 test kits have been delivered to over 100 countries around the globe.
---
About BioPerfectus
Bioperfectus, a publicly listed company on the Shanghai Stock Exchange (SSE:688399), has been a leading molecular diagnostic solution provider specializing in infectious diseases since 2010. With headquarters in Jiangsu, and subsidiaries in Shanghai, Beijing, Xi'an, Taizhou, Hainan, and Yinchuan, Bioperfectus is a pioneer in the molecular diagnostics market with products ranging from real-time PCR kits, nucleic acid extraction systems, rapid tests, and automated laboratory devices. Young and passionate, Bioperfectus is working steadily and firmly to achieve the dream of creating a healthier future for our next generations. For more information, please follow us on LinkedIn or visit www.bioperfectus.com.
Media Contact: marketing_global@bioperfectus.com
Previous Article Review: