Introduction
SARS-CoV-2 Lambda (C.37) variant was first detected in Peru in December 2020 and has been designated as a VOI by the WHO in June 2021, due to a heightened presence of this variant in Peru, Chile, United States of America, Argentina, etc. The spike protein of the Lambda variant is more infectious, which is attributed to the T76I and L452Q mutations. Another mutation F490S has already been associated with reduced susceptibility to antibodies generated in patients who had recovered from COVID. This kit will help to identify Lambda variant by targeting ORF1a/b, F490S and T76I, and the result can be interpretated quickly and conveniently by an automatic result interpretation tool.
Our R&D team is closely tracking the reported SARS-CoV-2 variants worldwide and design assays for detecting emerging mutations related to increased infectiousness, immune escape, vaccine efficacy, and therapeutic medicines. Assays for these emerging mutation targets of interest will be available upon request.
Features
Qualitative detection of four targets (ORF1a/b, F490S, T76I and internal control) simultaneously
One-tube and four-color real-time PCR reaction
Automated result interpretation add-in for STC-96A & 96A Plus*
Efficient detection of 94 specimens in 72 minutes
Endogenous internal control (IC) ensures the whole process reliable
Semi-automated interpretation tool available for other real-time PCR instruments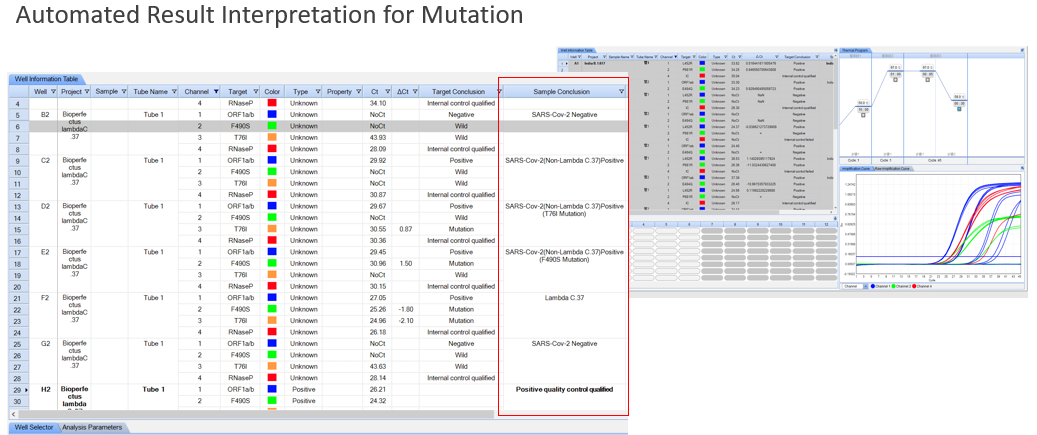 Parameters
| | |
| --- | --- |
| Target | |
| Coincidence with internal positive reference | 100% |
| Coincidence with internal negative reference | 100% |
| Limit of detection | 500 copies/mL |
| Sample type | Nasopharyngeal swabs, throat swabs, sputum specimens. |
Certificate
For Research Use Only. Not for use in diagnostic procedures.